We spoke with Sean Baker of the Markham Aquatic Club. Sean has been a pillar of the Canadian swimming community for the past 30 plus years. He's had the opportunity to coach from coast to coast and has always strived to make swimming better in his community. He is unapologetic about winning, his desire to win, and his performance expectation so long as it's done in the right way. He's a proponent for athletic development and is a master of team building. 
The text that follows is an excerpt from our hour long conversation.  The full video interview can be found on our youtube channel and by the link here. The full audio can be found by Clicking here
I just want to dive into it here and start by setting the foundation for who Sean Baker is; you're born in Kenora. Is that correct? 
I was raised in Kenora; I was born in Ottawa and adopted by my parents. I had a wonderful childhood in Kenora. I left Kenora around age 18 to spend my last year of high school at North York to try and make the Olympic trials in 1988.
From there, I moved on to the University of Manitoba and coached in Winnipeg. Then four years in Regina followed by six years in Nanaimo, nine years in Hamilton, 10 years in Oakville, and then my new adventure in Markham.
How did you get involved in coaching? What drew you to that pathway? 
In a small town program like Kenora, we had a head coach, and then we had volunteer assistant coaches and as a 17-year-old. I was interested in coaching and decided I wanted to do that and really enjoyed it. When I was at the University of Manitoba, I started coaching with the Manitoba Marlins, and I just loved it. 
You have some very clear values; you know what you want and know what you want to get out of a situation. How did you create a foundation that you can stand on what you believe so firmly and also have the ability to learn and adapt and get better? Where does that come from? 
That's a great question. Well, I think the first real showing of that mentality was when I was in grade six. I was accused of breaking some instruments in the music classroom and I wouldn't admit to something I hadn't done. They called my parents in, and they ended up saying, "We support our son, and if he said he didn't do it, he didn't do it."
I took my punishment and that was the first time I remember not backing down when you really believe in yourself. It certainly was not an easy way to go, but it's just kind of the way I am. I'd like to think that I'm getting a little bit more diplomatic in my approach in dealing with those things, but that still is very much me.
I think probably because my parents were pretty straightforward, stood on principle, and were adamant on doing what you believe. 
If we take out another layer off that onion, standing on principle and knowing what you believe takes a certain amount of confidence. Where does that confidence come from to know that you've made a decision and you believe in something and you're willing to pursue it because you think it's right. Where does that sense of belief and right and wrong for you come from?
I can remember my dad saying, you know, you have to sleep at night. We were out on a fishing trip one time & ran over a reef and the motor's bottom broke. I had said should we get an insurance policy on this?  My dad responded that's not the right thing to do. That would be fraud. I didn't really realize that you had to buy the policy before it happened at my young age. So very early on, I was instructed by my dad about making honest decisions and doing the right thing.  
For a long time, I didn't care what other people thought; if I felt that I was right, I didn't want to be a sellout. I didn't want to cop out and do what everybody thought was correct or popular. I wanted to be my own person and stand behind what I believed and what I thought.
I wanted to get into Regina next. I was doing some research on you and Regina stuck out as an interesting time. Like the clubs you've gone to, there was a cohort of coaches there in the nineties; it seemed magnetic. Like what you might read books like in Bounce or the Outliers, there was something that drew characters like Kevin Thorburn, Murray Drudge, yourself, and Steve's price there. To a tiny little place in the middle of the Prairie's that took over swimming in Canada. That idea followed you around everywhere that you've gone in terms of how you've built your club. A spark ignited there. What ignites that spark for you? What ignites that spark with the teams you've worked with since then and now with Markham? 
Paying homage to Marie Drudge and Kevin Thorburn first and foremost.

In the late eighties, I was working at the Manitoba Marlins swim club. Regina came in and just destroyed everybody at a swim meet called the Prairie Winter Invitational. It was just shocking and I decided I needed to go see what they were doing. At the time, the Manitoba Marlins, weren't running at Christmas camp. I asked Murray if I could come in and visit him during Christmas camp. And he was just so welcoming, saying agreed
In the middle of winter on the Prairie's, I drove out and got my eyes open to many things that Kevin and Murray were doing. Murray had brought this whole aura from the Etobicoke swim club under Paul Bergen and indoctrinated those philosophies, values, policies, procedures, and more into the new DNA of the Regina Optimus Dolphins.
Kevin had been there already as an assistant coach under John Campbell, who had done a great job there. Kevin just had this wonderful swimming mind, he was a masterful mathematician that understood psychology; Murray just knew how to work with them and put him into a zone of figuring things out, and they complimented each other wonderfully. 
I slept on the couch and got introduced to sushi and to the world of swimming and just that real passion. It was so much fun just to be there, go to practice and watch Shauna Collins, dive in, and challenge the world record as she's coming under the flags on repeated hundreds as well as getting to know Regina's rules of racing and training.
We used to call them tribe tactics; there was a whole kind of manuscript of how to do things. I mean, really, as the disciples of Paul Bergen, we all stood on the shoulders of everybody that came before us, and we put our own blend together; the sky was the limit. Being part of that team meant buying in, knowing that being early was on time, doing the little things consistently well was about personal discipline, that there was a calling greater than your own swimming and that you were part of something great and historic. It was a wonderful time. 
I'm sure there was an impact throughout your entire career from those years in Regina. And I want to take a minute to recognize Kevin Thorburn and Murray Drudge. We lost them both in 2020. You guys separated after Regina, and came back together when you were back in Ontario, which made for very, very strong Ontario swimming. 
Talk to me a little bit about the habits of showing up on time and doing little things right, as it pertains to Sean Baker, the coach, before going to Regina versus Sean Baker, the coach coming out of Regina, what are you leaving there with that you didn't have going in there?
Well, I thought my swimming acumen was pretty good, coming out of swimming and coaching in Kenora & Winnipeg as smaller programs can be really good for developing coaches. Regina opened my eyes to the depth of knowledge required; the understanding of cycling (microcycles macrocycles), weight training, and sports psychology, it was a complete package. In the late eighties, early nineties, we were going to the library, renting Vince Lombardi's VHS videos, and having team meetings. Leaving there, I had a level of education that was higher in all those areas. There was a huge sense of team coming out of Regina and that we're better together as a unit, I understood what fast was I understood what tough was. I took all the best parts from my experience and added on my own flavor; I added things that I learned from other people, 
You mentioned Hamilton. The way you said that made me curious; what was different about Hamilton? 
Well, I flew into a hornet's nest, and I knew it at the time. Hamilton offered me a deal I couldn't refuse. It was difficult because, at the time, if you recall, the Hamilton Wentworth Aquatic Club was Ontario provincial champions. They had the likes of Grey Fairly, Joanne Malar, Scott Dickens, Tanya hunks, but things had changed. The club foolishly had had got their nose out of joint because the head coach was also the university team's head coach, and the executive didn't want that; they chose to split ways. It was my first experience being in a city where there were two rival clubs, which made this a hornet's nest; I learned a couple of things in Hamilton that I'll never forget; one, it's amazing what you can learn to put up with when you don't have to. And number two: how to do a great job in a terrible situation. 
Often the best. 
In your blog Getting to Gold, I wanted to ask you about a couple of things - Win at all benefit, what is that?
The first notion is that win is not a four-letter word. It's something that I look back on sports development in Canada and the history, specifically with the Participaction concept; it took so much away from the idea that winning is okay. And winning at all benefit means that we're going to win fairly by the rules. However we can in fairest ways and that the pursuit of excellence is a process that every individual can learn from. All of the teams I've coached have always operated by this mantra; we try to provide a program for every individual to reach their maximum potential through pride, discipline, loyalty, and commitment. Win at all benefit doesn't really have that much to do with gold medals. It has everything to do with the process that leads to success. I'll say to parents that life's a competition and part of developing as a young person is learning how to compete, and doing that through a process. If some disagree, I say, okay, well, what does it take to get into university? It's a pretty, tough competition, right? You come out of university and look at jobs; it's pretty competitive, even for people who have degrees now. So I think dwelling on the process to lead to excellence is something that all kids can learn in your program that will help them in life.
They're going to learn about consistency. What real hard work is, what goal setting & what teamwork is... old fashioned values of the grind, the day-to-day process that is the pursuit of excellence.
You mentioned, when it's not a four-letter word, what does that mean?
Well, four-letter words typically are bad words they are something you want to stay away from. 
Understood. It's a way of demystifying or reconnecting the concept of winning.
In Oakville, you built your club up to 500 plus kids. You found a way to push the idea that winning is okay because you did win and produced many really good athletes. To have a club of 500 swimmers, which is two to three times the average club size in Canada, means you also sold them on the idea that they can be a part of the journey and part of this process. Can you speak to that?
The first thing we did and I say we, cause I always like to include the board and, and certainly, you never do it on your own. There were a lot of great things happening in Oakville before I even got there. At the time, a small rival club was pretty cutthroat in trying to recruit swimmers. My first objective was pool space, if they gave up any pool time, I told all the pool managers that we would take it. The rule number rule never cancel pool time, or you'll lose it, so I asked all the staff to find any pool that had any water available. It didn't matter if it was three lines, three lanes, 20 yards, a YMCA pool, anything, just find the time. Then what we did was start a ten and under program and got that underway. I remember listening to Pierre LaFontaine talking about getting a club to 1500 swimmers, his philosophy was to get more kids swimming less. And that's the way you can really increase your numbers up.
A Kevin Thorburn quote, "talent is evenly distributed amongst the population base."   So it's a matter of, getting enough numbers in and then having a good talent ID program to move those kids through and that's what we did. We started a Friday night group in the water 45 minutes a week; we had 12 new kids by the end of two months, 20 new kids after 3 months. By the second or third year, we were in nine different pools in three different cities. Now to be clear, there was one pool in Mississauga, one pool in Hamilton, but we got to nine different pools; this was strictly a numbers game. One group was in a three-lane 20 yard dungeon of a pool, terrible air, hot water, but we had, you know, maximum six kids per lane, at times we had 12 to 18 kids in these three lanes. This was our senior sprint group. It was for any high school athlete that didn't want to swim anything over 200m. And if we had people that came out of that program and went on. Great. If not, they still were expected to go there five workouts a week, they had the same basic fundamentals that we were preaching to everybody; early is on time. Do the little things right. You're only allowed to come on deck in a black suit & team cap. It wasn't that we were selling ourselves out for this group just to make money; we held them to the same day to day standards. We didn't want to lose these kids in high school and hoped to still contribute to relays. When it originally started, that senior sprint group target was relays and the 50 and 100 free and to compete at the provincial level. 
We decided to find every lane of pool time we could get with the board, knowing that we would have to have the finances in place when pool time opens up. We needed to be able to sign the contract and be able to pay for it and then go and get swimmers to be able to finance it. This discussion started two to three years before, there was a new pool going to open in Oakville, our plan was to keep everything we have; and jump into a new eight-lane, 25 meter pool and make it work. 
It takes a lot of staff to run a 500 member club; to have everybody in their lane, feed the system properly and make sure that your swimmers, who are clients, feel valued. What is your position on coach education? How did you help that many coaches? 
There is always a high premium on education, and I was aggressive about getting excellent coaches at all levels. In Oakville, I had Martin Gurrin, a veteran coach who coordinated all of our 10 and unders. His role was to bring my information, direction, & technical programming to the 200 kids and the coaches he oversaw.
Another strength was we had four or five coaches that either had been or could be head coaches at one time.
That is a credit to you; coaches choose to stick in a program because they believe what's going on. If you're a good coach, it's easy to get scooped up and swept into another program. To choose to stay, that's a testament to what you.
There's no way I could've quarterbacked that on my own. Kathy, Kyle Welsh, or the number of them were great assistance to me, just keeping me on track, keeping me organized. The last Olympic trials we had close to 45 people. It was so big and I'm not that well-organized organized to be able to do everything. So I needed people like that, and now I have a wonderful young coach working with me right now, Carter Udall. I just know myself and what I'm good at, but I need help in all these other areas. I always tried to find the best people. Luckily, there were a lot of great people there when I was on Oakville.
That level of self-awareness says a lot as well. That, combined with the ability to surround yourself with the right people, shows the importance of team and teamwork. 
I want you to share your thoughts on a quote that I pulled from an article about you; the quote reads, "When winning becomes everything and the process is forgotten about, that's when we get into trouble," Can you elaborate on that?
It's about avoiding tunnel vision; you're trying to create wave upon wave of athletes, it doesn't really matter what kind of athletes, I have to know who's coming up behind them, what's in the next level below that. I'm as competitive as the next person I hate losing. I'm not in this for the wellness of all beings or people having a nice experience, or I should say, not primarily. I love challenging athletes; that process is so important. As an example, two summers ago, I was devastated after summer nationals, where there was something specific I wanted to see come out of it, and we failed. I was really down; we went for a team supper and after the team left, I went and walked the streets of Winnipeg.
I was so upset that we didn't get to the result. My wife reminded me of what you're doing and how much of an influence you have on these people's lives, and it's a process, it's going to be up and down and, you know I need to be reminded of that sometimes.
As an example, today we are waiting for an announcement from Swimming Canada about the Olympic trials tomorrow. Regardless of whether or not it happens, we'll deal with it. Life will go on, it might be challenging, it might be different, and it's most likely going to be very difficult, but we will focus on what we can control and run a great practice. It is important to enjoy what you're doing and recognize what we have done to date hasn't been wasted. Even when we're not sure what's going on with Olympic trials, will they be changed? Will they be postponed? Will there be an Olympics? What we know is there's going to be a tomorrow, I think that's really important to recognize. We will get back to the process. 
When you focus too much on winning, I think that shifts too much of the focus in the wrong direction, it takes away from all the good that you are doing.
The principles that you built your foundation on; in a year like this proved their effectiveness. Now, with the Markham aquatic club you moved there in the fall prior to the pandemic, you were in the middle of training camp in Barbados preparing to go to Olympic trials when you were notified that the borders might be closing. With little details, you then find out that Olympic trials are going to be canceled and then postponed, same with the Olympics. Having to deal with that uncertainty for an entire year at this point, you now prepare for more uncertainty. Knowing there's nothing we can control beside what we do, say and how we behave, How is the rest of MAC carrying on?  

Good question. We have a number of excellent coaches that are working well together sharing ideas. We have Monday meetings with the coaches to set up the week. Each coach then has meetings with their athletes Monday, Wednesday, and Friday, working on mental skills, assignments, or a video off of YouTube. For example, my group got a 1992 US Olympic trials compilation video and a few assignments that accompanied it. 
The following Monday, we're going to go over it. We developed a concept we call What's Up Wednesdays where we feature one of our top-flight athletes, they give a talk, and then open it up for questions. Yesterday was our first one, and we had 85 people on the call with Mabel Zavaros. 

Mabel Zaovros featured in the adjacent photo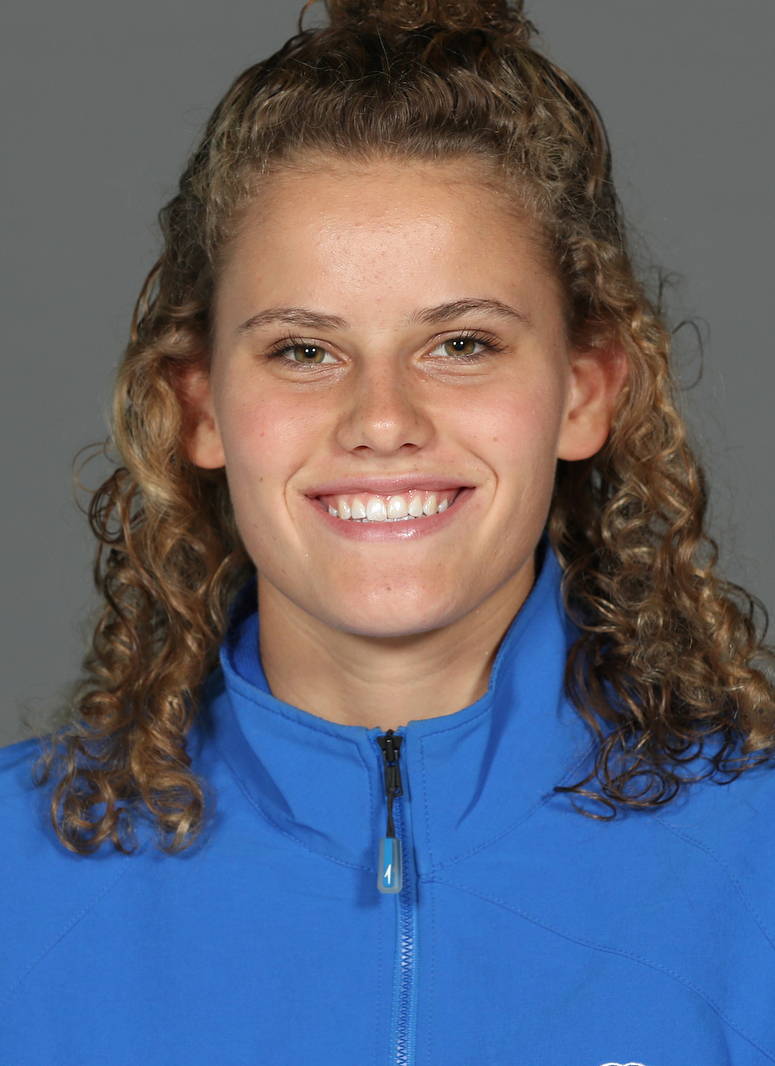 Friday is Fire Away Friday, a town hall with the head coach, I have one topic a week, and I'll publish a topic and open it up for questions. The first one we're going to do is about when we get back to training, when parents are allowed to come in, parents' conduct; avoiding people on the deck or in the stands with video cameras, shouting down to the swimmers and coaches.

Each group has its own assignments. I'll have a Tuesday and Thursday dryland session. Monday, Wednesday, Friday, we'll have a combination of a Jeff Grace yoga session, a Swim Swam article, stability work, and a YouTube video series with our strength and conditioning coach. One on stability, one strength, and other similar video topics. There's a really good mixture of mental skills, online video content, the town hall, What's up Wednesday. We're trying to provide as much value as we can while we weather this storm.
Thanks for checking out the latest!