Today, we're talking with the master of community, the master of tribe, Richard Pady from Healthy Results Training. Richard has built a community of athletes and fitness enthusiasts across the world over the past 30 plus years; he brings his functional and practical approach to fitness training and coaching to the clients that he serves every day. He's also a very well accomplished triathlete and a long-standing member of the swimming & triathlon community. We're fortunate to talk to Richard today, and we welcome him here to the on-deck show. 
The text that follows is an excerpt from our hour long conversation.  The full video interview can be found on our youtube channel and by the link here. The full audio can be found by vis the Spotify link below
I want to start with a question on Healthy Results(HR), and then I want to talk about your journey to this point. Can you tell us about HR training? 
At the tail end of my professional career in 1998, I realized I was going to make that transition to coaching. I had already started coaching a bit. I registered Healthy Results(HR) and became a certified coach. I didn't know where I was going with it, but it became this element where we were training athletes predominantly for Ironman at a time. There was a huge boom in 2002 through to 2004, really where everybody was just doing iron man; 70.3 racing didn't really exist yet. It was not like it is today, and so we built our business based on Ironman and growing and training. 
We are about training the everyday person. We have professional athletes that we work with, we also work with top age groupers, we've worked with the middle of the pack athletes, and we work with people just hoping to finish their event.
And the great thing about it is every hour is different. My day from six o'clock this morning until nine o'clock tonight, every hour will be different. I'm talking about entirely different things. One client I'm working with is high tech. All the latest data gadgets using every algorithm that we can work on to make their training better.
And then with the next athlete, we're just talking about how to be consistent and get 30 minutes in every day. I love it because it keeps my brain going; it makes me feel that I'm helping people at all different levels
So triathlon started in the late seventies in California. Your first international triathlon was in 1989. So, you were there right at the beginning.
Jack Johnstone of the San Diego track club featured in the picture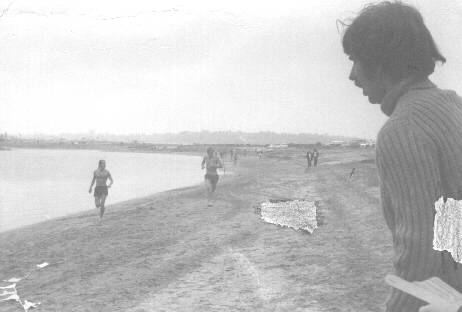 Yes, there is a different group of athletes today compared to then when I started. Triathlon was very much in it"s beginning stages when I started. It had been around for about nine years and was just becoming popular. In my small town growing up, I was the only person competing in triathlon; it was not the norm.  
I know you have; you had a multi-sport background, you were a skier, a runner. What drew you to the triathlon? Was it the fact that it was new? 
So the story is, when I was 13, there was a half marathon that went down past my bottom of my street. It was a little local YMCAs, half marathon, and I asked my mom what these runners are doing down the road? I was by no means a runner; I was a downhill skier. I would cross country ski a tiny bit, but by no means athletically. I was a sailor and windsurfer in the summer. Those were my sports at the time.
The marathon intrigued me for some reason; it turned out you had to be 14, so I committed to doing it the following year. That was April of 1988. So in April of 1989 came around, my mom comes home from the YMCA one day, and she reminded me that the half marathon was on the upcoming Sunday. I asked how far it is? She replied, it's 21Km. Well, how far is that? So we measured it out on Tuesday. I ran the front half of the course on a Thursday. Then the back half of the course. And then, on Sunday, I ran a half marathon. 
At that time, we knew nothing. There were no books; my mom always was so supportive. The position she took was: You want to do it? I'll figure out a way for you to do it. It went well, I didn't realize at the time, but looking back on it now, it was a little ridiculous how well I did. 
In other sports like still cross-country running, track and field, I wasn't a star by any stretch of the imagination; I had to work hard in track and field and cross country. I was never a shoo-in for those kinds of events.
Then I saw a brochure for a triathlon in June of 1989 um; my sister and I decided that we would do our first triathlon, which turned out to be a challenge; I didn't know how to swim, which is funny now as a swim coach. I did breaststroke for 1500 meters. We didn't know how to ride 45km; we had only two months of training. We rode this incredibly hilly 40km bike ride. Followed by what I thought would be a piece of cake 12km run - two months ago, I just ran 21km; this time, I pretty much walked 12km and my finish time for the triathlon was three hours and 15 minutes or something like that for the Olympic distance. I was almost dead last, I think there were three people behind me, and I was like, I'm hooked when's the next one? The journey has been interesting and a lot of hard work, people always ask me, how did you know? My answer: I have no clue. I enjoyed every last bit of the challenge. Everything I've ever done as an athlete, I've signed up for it, not because of what it could do for me, either it scared me or that I wanted to see if I could do it. That's been my motto, whether it be taking on coaching or taking on Healthy Results or my athletic career. 
That was a brilliant answer. When you're dealing with athletes coming to you for the saying, I want to do this for the first time; I want to improve my fitness. How much of that story do you impart? 
Well, I think a lot of my experience and my 20 plus years as a coach have taught me that when I talk to a client for the first time and listen to the client, give me their history a little bit. Still, with even without even hearing any stats, without hearing any of their actual athletic backgrounds, their personality will tell me whether they're going to be successful or not.
And if their personality is such that I know I need to do work on their mental aspect of their, of their training, then I know that that's going to be our biggest hurdle. I've learned that the training part, the day-to-day time and mileage, that's easy. That's truly the easiest part, but the mental game of it all, especially when we talk about Iron Man, I explained to everyone, whether you are the first person or whether you are dead last, everyone is suffering. And if you're not suffering, something's wrong with you; and you should probably quit after that race because you had the perfect day. It is a huge challenge. And even down to half iron man, and a sprint even down to an Olympic distance. You know, even we can talk about swimming even in a 400, there's always that question of whether you can do it, at that three-quarter distance your brain will always want to tell you, you can't do it.
So to me, it's always about training the athlete, working with the athletes to make sure that they're ready to handle that moment because the rest of it's pretty straightforward. 
That's interesting. I want to kind of double-click on that for a second. When you talk about personality, there are probably many things that you've learned over the years that can help people when we speak of personality and so forth. What are the things that you have seen from a personnel standpoint that help or hinder? 
The conversation you'll constantly have is about intrinsic motivation versus an external motivator. You need to be motivated from within; if your goal is strictly how people view you, if your goal is strictly about needing that podium, you know, you have to be on the podium; we need to shift that to an intrinsic goal. In the heyday of my racing, I won many races, but I used to tell people; all those metals are in a box down in the basement somewhere. They don't mean anything to me; however, certain performances mean a lot to me. When I crossed that finish line, in the moment, I might be racing for a place, but the satisfaction of it, the happiness of it, that enjoyment of it is based on how I felt I executed the race. I try and translate that to the client and say, you know, you can use those external motivators, your competition around you, or that person up the road that you're going to chase down; but at the end of the day, you've got to look back on yourself. Internally and be really proud of what you accomplished. The reality is if three amazing people show up, the level of competition just got elevated significantly. I grew up with a guy who was my roommate and training partner for many years and was a gold & silver medalist at the Olympics. So, you know, tell me how many times I came second. If the priority was first, all the time, I would've been disappointed a lot. I think it was 1996-97; I think I had like 15 second-place finishes. You need to have intrinsic goals; that's what I communicate to the client; they need to know why are you doing this? When I asked that question, I learn a lot about people and what needs to be done to help them understand how to make those goals so that they are happy. 
I want to stick on that theme and talk about how you walk the walk when it comes to that stuff; in 2010, you had a pretty severe accident, but you recovered, and you worked yourself through it. It sounds like a lot of the stuff that you just described; you also deployed or employed to recover through that. So can you talk a bit of that? 
Yeah, so a little bit of back history on that. I retired as a professional triathlete in 2003, I started my family during that time; my daughter was diagnosed with cancer when she was two. So there was a real break in racing for me between 2004 and 2008. In 2010, I was just sort of dabbling back into, into racing I would have been 36.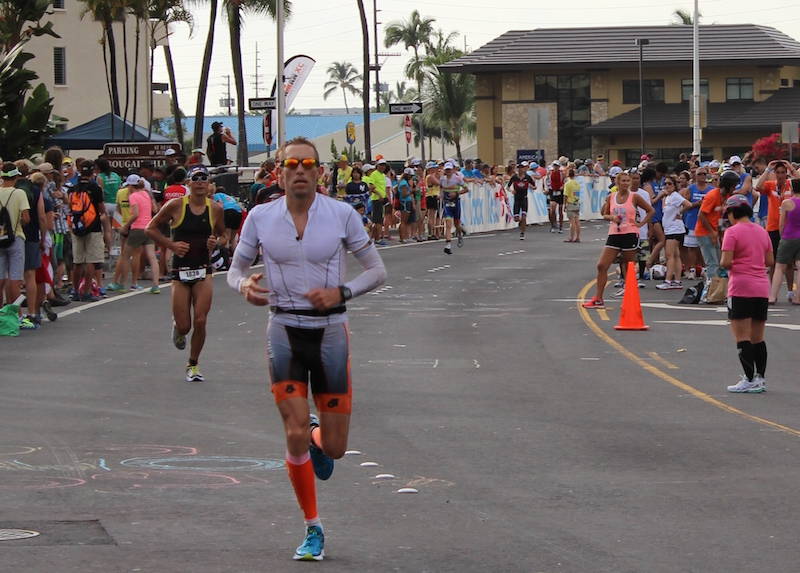 I was racing Welland, in third place, in a great battle with some of my closest friends; it was the weekend of the G20 summit in Toronto. Because of that, the racecourse had to be changed last minute, there had been riots, and they pulled the police from the racecourse in Niagara Falls over to Toronto to help out. The race organizer had to create a different racecourse very last minute, it was an out and back, the roads were still open to car traffic. When we were coming back, we'd already made the turnaround, the vast majority of the athletes were still going out on the bike and a car was trying to weave in and around athletes. He went around a group of athletes, he clipped my arm and threw me into the ditch. My good friend Nigel Gray was in fourth. He stopped, he took care of me while we waited for the paramedics to arrive. I ended up suffering a terrible break of the humerus and a lot of road rash. I hit a car going 40 km/h in one direction. The car was going to 80km/h in the other direction, and we had an impact. I'm lucky to be alive. It was a nine-month recovery process that started the wheels spinning; I made it a goal to try to be back racing well by 2014 and try to make it to Kona.
The process to achieve that included trying to swim again and try to get back into some form of athletic shape. In 2012 I raced the multi-sport series here in Ontario. I ended up winning the race in a close battle to who many listeners might know if you're there following triathlon nowadays, Cody Beals as he was starting his career. He's now one of the top Ironman athletes in the world. We had a great friendship and great battle through that year. I qualified for Kona at Ironman Arizona, being one of the top age groupers there, and then went on to Kona to have a great race in 2014 and then retired from triathlon after that.
So it was an incredible journey back; that's how my brain works. As soon as I have some adversity, I always sit back, set a goal, find a personal challenge.
A common theme for sure. You touched on this earlier - about your daughter, and one of the initiatives you took is you started a race foundation or race to help raise quite a bit of money - A quarter of a million dollars. Talk to me a bit about that.
My daughter had a form of leukemia called AOL, and, um, we, she was going through treatment for, for five years. At the end of that, near the end of that, I felt like I wanted to do something. I'll be fully honest; part of me was also a little on the selfish side, wanting to get back onto the road and figuring out how I could still support and do something with the platform that I had. In 2017, we created a Race for Kids where a hundred percent of the donations went to a charity that helped families with childhood cancer. The years leading into that were rough for our family. And it was a great motivator for me, triathlon was the community that I knew and the community stepped up. The race organizer of Lake Placid at the time, Graham Fraser, gave us the spots so we didn't have to fight for spots that were very hard to come by and a lot of people together to raise money for childhood cancer.
That's that's incredible. Good on you for doing that and, you know, I'm sure a lot of people were very grateful for that work. You've built a community through Healthy Results Training, and you work with people worldwide, describe that community a little bit; who is the HR tribe? 
The HR athlete is quite diverse. Um, w like I said before, we have trained people as young as 13 years of age. I currently have a client who's 90 years of age; he still heliskis every year.
The clientele is predominantly triathlon based roughly 90%, the other 10% whether that be running, cycling, focused, or adventure race. Now, we're starting to, because of one of my new passions altering, slowly moving into ultra running, although I'm just trying to decide whether I'll just keep that for myself.
 Our client's average age is probably somewhere between 40 and 55 years of age, and clients stay with us. I have numerous clients that I've had for well over 10 years, many for 15 years. I take a lot of pride in that for me. It's about, like you said, community; we aren't a club in the sense of.
We're in Orangeville. My clients aren't here. I have a few clients here in Orangeville, but the vast majority of my clients are around Ontario, around Canada. They've been in the US. They've been over in South Africa. They've been over in Europe. I have had a diverse group of athletes, but we built this community.
We get together for training camps and training days. It's been really neat that the community has really stayed strong. 
You mentioned triathlon, and the vast majority of your clients are triathletes. For people trying to navigate fitness and triathlon in a COVID world and hopefully soon a post COVID world. For somebody starting out or coming out of hibernation now wanting to do something this summer, without knowing if there are going to be any in-person events, what advice are you giving people? Or what, what tips or training are you, are you offering to people?
This is the conversation we have almost every day with our athletes, as they are gearing up year for two of COVID - their races all got canceled last year, and that may happen this year. This is a great opportunity to really focus on what you can accomplish. So we've been doing a lot of time trials(swim-bike -run). It's not virtual; it's part of their training and getting that satisfaction of doing it independently. I've explained to them that if you learn to be tough enough, to do it on your own, at a high level, that when the day comes that you can, that you can race again, it's going to feel so good. You're going to have this inner confidence that you may not have had before. Many newer athletes who didn't necessarily grow up as athletes who have to become athletes later in life don't necessarily have that confidence. This is an excellent year for building that confidence where they don't have the stress of racing and that hopefully, that confidence will then translate over into race day.
Interesting. You're already set up for this. With HR, you've been online, pretty much right since the beginning, almost before the internet.
What are your thoughts on the tribe? It's synonymous with the sport of triathlon. You often see cohorts of people that are there getting together to run or showing up to the pool to swim together, it is a tribe mentality.
Why do you think that is with triathlon? 
We were doing Excel files and email when we started.
That's an interesting question. I think you'd find it in a lot of sports. I mean, I think of swimming, I think of cycling, I think of running. They are clubs. I would say at the beginning of triathlon when it was grassroots. It wasn't mainstream; there was one coach in triathlon in Ontario. You had to be with that coach to get to the national team. Really everyone was just together. I hung out with all of my friends, whether they're from Leamington or whether they're from Kingston. Now in the town of Midland, of 20,000 people, you know, they grew our tri club to the size of hundred people, which is incredible. I think what's happened is, the draw to triathlon has brought communities together. Within those communities, they've started their Learn to Tri's; evolved to a sprint, then their sprint becomes an Olympic, and then Olympic becomes a half Ironman. Suddenly, you have this tiered effect, and I think what happens is that people gravitate and join in at the grassroots level, and as they progress as athletes, it brings that community together. You have more senior people, as well as, beginners. 
Talk to me about your plans for the summer. I saw that you're organizing or launched a camp, a local camp, and potentially one overseas camp?
We put a hold on our Hawaii camp; it is being pushed to 2022. 
We are going to be organizing a training day in July. We're going to start here in Hockley, which is just north of Toronto. For those that don't know where Orangeville is. Hockley Valley resorts area. Obviously, this will constantly change, depending on whether we are in a gray, red, or orange zone with COVID. We've got a plan we're going to start with a day. If the miracle happens suddenly, and we're allowed to do more, we'll grow from that. We're also planning a ton of swimming clinics. Again, we are waiting to launch those until we know more. And then we're back to Vegas next year, for sure. Uh, that's the one thing that this, uh, this lay off has been for everyone, they've all realized.
Right now is when we'd typically be in Las Vegas for our training camp. Many people, they think of Las Vegas as the strip, which is funny. I've been there for the last ten years. I spend my token day on the strip every year. We train about 20 minutes off the strip in Lake Mead National Park, and it is hands down some of the best open water swimming you'll ever find, the best bike & run I've found everywhere. I've been down to Tucson; I've been in Phoenix. I've been out to California. Lake Mead has some of the best pavement, some of the best beautiful terrain, and literally, we have one route that's 200 K, and people can ride any length of that 200 K route. The road is beautiful, and you might have seven cars go by you. It's a fantastic place to go for a week. So we'll be back there in 2022, in the spring. We have lots planned, a little bit prepared for the summer, but a lot planned for 2022.
That seems to be a critical way that you bring your community, your tribe together
Absolutely. Yeah,, we try always to have our spring camps, our pinnacle camp. We've been doing it now. I started in 2000, and it's been a huge part of our community getting together each year; people look forward to it. I have people that have been coming for many, many, many years it's just a fun week because I think one of the things I can say about Healthy Results is that we don't have egos. You know that's, I think my personality doesn't draw to the person with a huge ego our club is very open to new people.
It's not a clique which is neat. It's what I feel so special about it that we can get people together, maybe because they're not all from the same community, we can have a lot of fun together as a group. 
You've shared a lot. Hopefully, people are going to pick this up and find and find out what you do, and hopefully, this helps you, this helps them. The goal of this is to try to create value for the community and bring everybody together. So thank you very, very much for your time today.
Any last words that you'd like to leave the listeners? 
Well, I think for athletes, the key thing is, is really, uh, sit down and look and, you know, ask yourself if there is no race, what do you want to accomplish? If you really think about what you want out of yourself, that is most important.

I'll give my personal experience. I'm training for an ultra run, and I'm training for a hundred-mile run right now. I know there's a good chance to race won't happen, but I have will have a goal set for that weekend one way or another; I will be running a hundred miles. But that isn't the reason why I'm doing it; it's that challenge of testing my body.
I don't know if my body can go and push myself the way I want to for a hundred miles. Yes. I know I could walk through the final bits, but that's not what I want to do. I want that challenge to put this up. So, I challenge athletes to sit back and think, whether you're a swimmer, cyclist, a runner, what do you want to accomplish that you haven't done? 
What do you want to try? This is the year to try something new. 
We don't have races; we can do many things we would usually avoid because we're too worried about that race coming up. It's a great year to experiment and learn about yourself. 
Fantastic. Well, I would love to do a check-in with you after your a hundred-mile run. See how that journey went; I'm sure that there's going to be lots to share, and lots of you've learned through that process. So again, thank you very much—all the best with the summer and the swim club. 
Ocean Junction is the best source for Vorgee Swim Goggles in Canada and the Pacific North West of the USA
Thanks for checking out the latest!