In this second episode of our drowning prevention series, we're going to speak with Kerri Russell from Russell aquatics in Markham, Ontario; Kerri is going to bring us her message on drowning prevention, give us a little glimpse into what she does and give us a little insight into the swim school itself.
We welcome Kerri.
The question: whether or not as a culture, we've taken drowning prevention for granted because of folks like you, who get that message out every day, and you do such an excellent job of getting the message of safety out, It's not prioritized, by people that are making critical decisions now during a pandemic, in terms of what should be an essential service, we know that drownings were up significantly in 2020, we expect the trend increase in 2021, we hope that it doesn't, that said, can you give me your take on that?
Yup. A hundred percent. It's not prioritized. It's not seen as essential. It really should be when drowning is the leading cause of accidental injury-related death for children under the age of five years, drownings happen in 30 seconds or less, and they happen silently.
So to me, with the number of backyard pools and access to water that we will have this summer, kids must know how to swim because we know that kids that participate in formal swimming lessons can reduce drowning up to 88%. So that's huge; it is so, so important that we are getting our swimmers back into the water, learning how to swim so that we can be more water safe this summer while we all are all having fun at the cottage and around the lakes and backyard pools.
Sounds good. So I want to dive into what you are doing withyour messaging to your members and how you communicate those safe waterbehavior messaging messages?
So we've been on social media, just talking about water safety, and that will ramp up now that we're entering the month of May and that people will have even more access to water. So just really ramping up those water safety messages. We're also offering water safety courses and courses for people with backyard pools to help them understand the risks associated with the backyard pool and the water and how they can further protect their families and the other neighborhood children.
So really, just educating the public through different courses and social media, we also have our monthly newsletters where we do the same thing. We ramp this up every year in the spring, and it continues into the fall. And yeah, we're continually hitting people with water safety messages and being realistic about the risk of drowning.
Absolutely. And to further emphasize your point. Can you tell me a bit of what you've experienced and what you saw in terms of regression and people leaving the pool and then coming back months later?
With the closure in 2020, where we were closed for four months when those students came back, we saw a significant reduction in their abilities of how to swim.
They had regressed a lot and then even further when we saw these students who I didn't come back. Until the fall of 2020, they had regressed so significantly we were going back at least a level or two. So I can only imagine what it's like for those kids who thought they would get to participate in April of 2021 in our spring sessions; we probably won't see those students until the summer of this year or the, hopefully not, but maybe even the fall.
It's very scary when you think about the fact that children have been out of the water for over a year in lessons; correlate that with the regression we saw within a few months; what's that going to look like after a year? What's that going to mean for this summer?
Fair enough, and further to your point, I have three girls, two of them had a very similar accident where they were we're walking along the pool deck. With their teeny tiny little infant toddler feet, I guess preschool or feet, they stepped on the puddle, fell on their bum, and slid right into the pool. One of them as recent as You know, three, four months ago - she was in the middle of swimming lessons. And I can tell you from my experience that if she hadn't been in swimming lessons and we hadn't seen her nobody heard her get in the pool, nobody heard her fall in the pool.
She slipped underwater; the only reason we saw it or heard it right away is that we heard her take a breath. She was kicking up on the surface. The swimming lessons were the critical factor in enabling her to stay safe. And this was an innocent accident. It was not that anybody was unsafe around the pool as they stepped on a puddle of water, slipped, and went into the pool.
And that's how fast drownings happened. And unfortunately, that's why they are the leading cause of accidental death for kids under the age of five; it just happens so quickly. And I always tell the story of a 12-year-old in a Bronze Starr class, and she had just finished her bronze star course, which is the first course in becoming a lifeguard. She was at a pool party that weekend. And a mom was swimming with her daughter. The daughter was in a life jacket, and I think sometimes parents are too dependent on life-saving devices like life jackets, puddle jumpers, and water wings. They think if they're in a life jacket, then they're safe and don't pay as much attention. This child, this three-year-old, ended up taking off their life jacket and throwing it out of the pool. The mum was right there within arm's reach but did not pay attention, and the child started to drown. It was our, our 12-year-old bronze star student who saw it and saved the little girl.
So it's just being conscious, and the more you know about the dangers of water and water safety, the more you can prepare yourself when you're in and around the water.
Yes, because it's, I suppose you could also say that it's never the accident that you're prepared for. It is always the one that you don't see?
Kerri' Key Points for Water Safety:
1. Being pre-equipped,
2. Having the knowledge
3. Knowing what to do
4. Knowing what precautions to take
As much as it's a cliche in this scenario, education is your best way to stay safe
100 percent. And, and your children knowing how to swim, is your number one protection.
I have three children; my youngest is 18 months. I have a backyard pool. And even for us, our parent and taught classes have started and stopped so often in the last 18 months. Luckily I have been able to continue swimming with my daughter, but I have a lot of anxiety, even though she can swim. Just this summer and having a backyard pool and I have the fences and the locks and everything.
I will still be very conscious this summer with her because my other children are four and five, and they're strong swimmers. I still worry about them, but it's just so, especially for the 18-month-old. Water safety is so important to know, and having your kids know how to swim is crucial.
Fair enough. So one of the things that came away from our drowning panel discussion last week was the idea of water Watchers. Where, you know, this is almost a community initiative. Whereas a community, as a group of people that you will kind of look out for one another, is really what it comes down to see somebody doing something that you think might be unsafe. You don't need to be judgmental about it. Just offer a friendly word, saying, you know, like you might want to put a life jacket on, or you might want to stay a little bit closer, so on and so forth. So this idea of water Watchers, is this something that you endorsed, you encourage your members to take on those actions?
One hundred percent. We even have water watcher cards. We do backyard swimming lessons where we travel, send our instructors to family's homes, and give them a package. And in that package includes a water watcher card so that they can designate somebody to be the water watcher and then provide them with that card when they're having a pool party or just, you know, enjoying the pool themselves.
That's brilliant. You walk in the walk carry with your school, your messaging, so on and so forth. You can hear the passion, but when you take passion and link it with the actions necessary, then to put that into play, I mean, like, it becomes very effective. And I hear that, and I see that. So clearly, you know, one of the reasons why you guys run such a great business in Markham
So I want to go back a bit of the school's history, where it came from, and then let's move on to a little bit of the tour and then finish this off.
So tell me a bit of where this all started because Russell aquatic; it started from you, teaching swimming lessons. Out of your backyard. And I think even before that you had a particular interest. I believe last time we spoke, you mentioned you worked in adaptive aquatics, was that correct?
I did do adaptive aquatics, so I was a competitive swimmer. And then, I went into adaptive aquatics with the city of Markham. And then I worked there for about a year, and then I was 17; I started swim school in my parents' backyard pool. And then, when my sister was old enough, she got certified and joined me in the backyard pool, and both of us own Russell aquatics now.
So it's been 18 years. We went through university and decided when we had graduated that we wanted to continue expanding the business. We rented different pool spaces; we did indoor lessons as well during the colder months. And then we always ran the backyard lessons in the warmer months. Then three years ago we expanded, and have out custom-built facility in East Markham.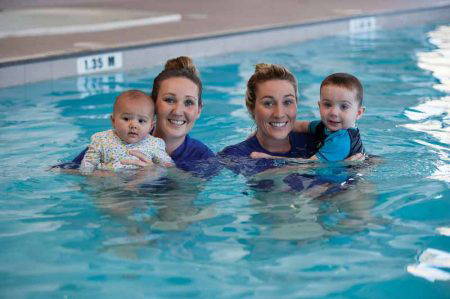 Brilliant. So we're going to take a tour of this facility momentarily. But tell me a bit of the process of actually entering into your facility. This is a big deal, right. You lease, but it's your facility, and this is will brainchild, your design, so on and so forth. So what's, you know, what are the steps required to enter into your own facility?
So Kristi and I did a lot of research on what we, what size of facility we want and what size of the pool we wanted, what we wanted our facility to look like and feel like. And we always wanted still to maintain that, that family-run business and that approach, and just really knowing our clientele and our team.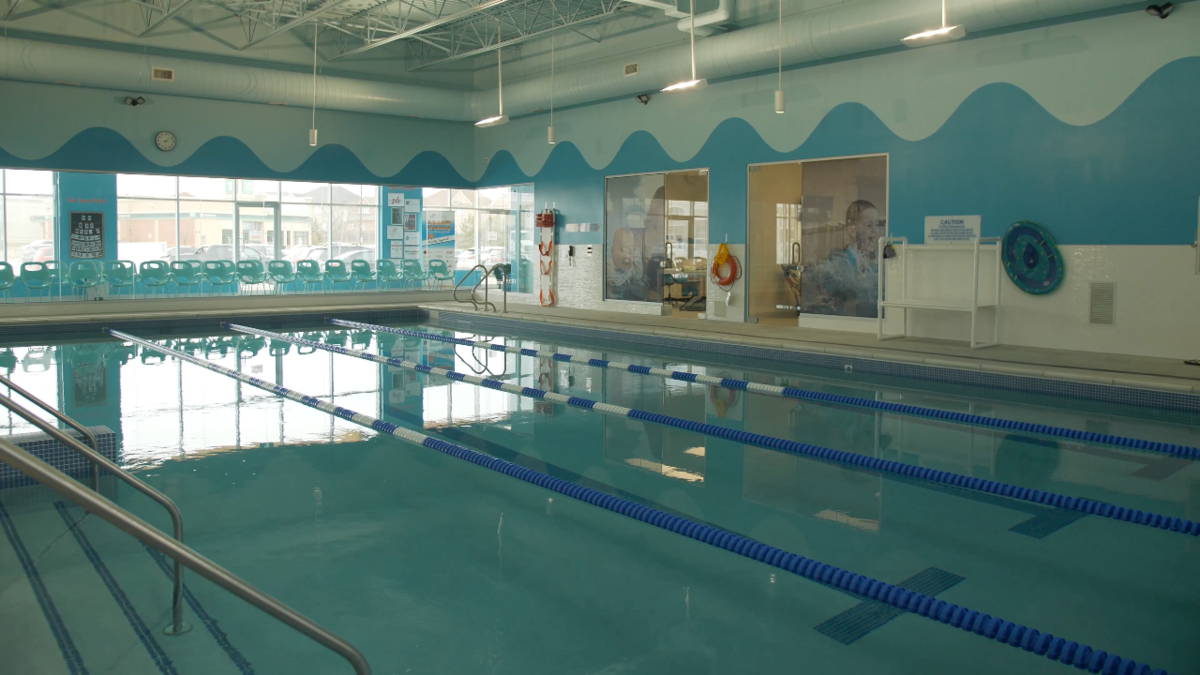 it's a lot of a lot entering into your own facility, but if you're prepared and have a great team of people working with you and architects and engineers, it does come together beautifully. And we're proud of the location that we did. There are some things we would do differently.
It being our, our first facility, but to be honest, tiny things. So I recommend for anybody wanting to expand and grow into this opportunity, do your research, visit other swim schools and get to know other swim school owners and immerse yourself in the industry; so that you can learn exactly how you want yours to be.
Brilliant. So for your swim school, you guys have this beautiful, you know, all window natural light entrance to your facility. Please tell us where you're located to get that message out to people when they're looking for you guys. And they're looking for lessons in the Markham area.
We're at 66 Copper Creek drive in Markham at the box Grove Plaza. So it's East of Markham, and yeah, we're. Russell aquatics is your 6,000 square foot units in the Box Road, Plaza, and Markham with plenty of parking.
You are in advanced mode.
You can turn it off in left sidebar. To use advanced options, you will need to enter your own Google Maps API Key.
Get Google API Key
I mean, You've imparted a sense of urgency when it comes to water safety, any final words you would like to leave people with in terms of things to pay attention to the summer and so on
Kerri's list of things to pay attention to around the pool this summer:
Making sure that your children are learning how to swim, that they're in a good swimming lesson and a good program that
Remember that drowning happens in 30 seconds or less; it's the snap of a finger.
Always be within arms reach.
Always focused on your children when they're swimming and
Drowning is silent, so you can't just use your ears. Your eyes are your best form of defense when it comes to drowning.
Be engaged and paying attention when they're in and around the water.
Brilliant. So if you're in the Markham area, make sure you guys look up Russell Aquatics. You find them on Google. Find them on Facebook, find them on Instagram. I think if they can find you everywhere, right?
Yes. Facebook, Instagram and at www.russellaquatics.com.
Absolutely fantastic. Well, I really appreciate your time letting us in showing us around Kerri